Main Crop
Inca Belle potato details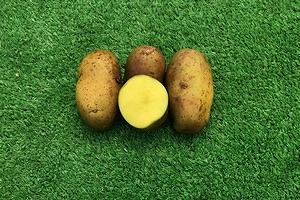 Inca Belle is bred from Mayan Gold and has red and yellow coloured skin. It has a lovely creamy texture and a nutty flavour. It is best roasted or baked as a maincrop or harvested earlier for salad use. Inca Belle cooks on average 30% quicker than other potatoes. It's delicious and time saving!
Resistance :
Blight : Good
Scab : Resistant
Eelworm : Low
Tuber :
Skin : Red
Flesh : Light Yellow
Shape : Long Oval
Copyright ©Dundry Nurseries all rights reserved.